New Releases
Fiction
Widow's Dozen
by Marek Waldorf
ISBN: 978-1-933527-77-2 (Paperback original)
ISBN: 978-1-933527-78-9 (e-book)
Price: $15.95
Things are falling apart in upstate New York's Beardon County. Mysterious disappearances. Uncanny antigravity pockets. Repeat visitors from "beyond." New York City's not much better. Endless summer. An alarming uptick in the mortalities and syndromes. Open season for rabid foragers.
Widow's Dozen, Marek Waldorf's mind bending, genre blending short story collection, offers eleven coruscating stories from a past that never was to a future too late to forestall. Subtle lives – nostalgia lit, lovingly textured – bridge the currents in catastrophe from impossible to remote to inevitable.
A captivating vision of America's dismembered states – how we got here, where we're going – that is less science-fiction than future shock treatment.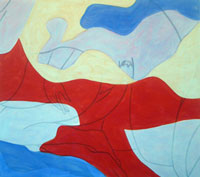 A Voyage to the Island of the Articoles
by André Maurois
978-1-933527-62-8
978-1-933527-63-5 (e-book)
$12.00
"Dangerous, charming, and funny--this elegant miniature of French literature will delight even brilliant minds." — Simon Van Booy
We wonder how it is that the New York Review of Books missed this enchanting novella — a cautionary tale on the subject of literary zealotry — in their superb NYRB Classics series.
Here is the entry on the island of Maina, home to the Articoles, in The Dictionary of Imaginary Places by Alberto Manguel and Gianna Guadalupi:
A famous Articole writer, Routchko, published an interesting confession, some 16,900 pages long, entitled Why I Cannot Write. According to the Articoles, every subject, every experience, deserves to be expressed as a form of art. Thus an Articole will publish not only his Intimate Journal, but also his Journal of My Intimate Journal; and his wife will publish the Journal of My Husband's Journal of His Intimate Journal. In recent times, publishers addicted to the Bloomsbury faith have wholeheartedly subscribed to the Articole creed.
Broken Irish
by Edward J. Delaney
978-1-933527-50-5, $18.50
Broken Irish is a passionately written story of authority and revenge, alcoholism and futile redemption, a novel driven by character, community and coincidence set in South Boston in the late 1990's. The book is tightly controlled and maintains a powerful narrative drive. Edward J. Delaney gives us a vantage point from which to view the moving and sad workings of an entire deteriorating society. he tells his story in short chapters that are filled with incident and drive -- jump cuts that can compete with any cleverly written Sunday at 10 pm HBO weekly series.
"In Edward J Delaney's South Boston little is lost, nothing forgotten. Old sins, old wounds haunt his characters, young and old, and reverberate throughout his wonderfully complicated plot. Broken Irish is an enthralling, satisfying novel." — Margot Livesey
"An entire community is on the brink. Hope is the only hope. And faith cannot scrub the grime off its hands. With Broken Irish, Edward J. Delaney delivers a gripping epic." — Adam Braver
Edward J. Delaney is an award-winning author, journalist and filmmaker. He is the winner of a 2008 Literary Fellowship from the National Endowment for the Arts, the 2005 PEN/Winship Award for Fiction and a past winner of an O.Henry Prize for short story writing. His work has been included in Best American Short Stories (edited by Jane Smiley) and he has been a finalist for the National Magazine Award. He has published short stories and essays in The Atlantic Monthly. In addition to a novel, Warp & Weft and a collection of short stories, The Drowning and Other Stories, Delaney co-authored Born to Play by Boston Red Sox second baseman and 2008 American League Most Valuable Player, Dustin Pedroia.
The Wilshire Sun
by Joshua Baldwin
978-1-933527-52-9, $10.50
The Wilshire Sun is a mirthful novella about a whimsical, hapless over-aspiring, under-achieving young writer from Brooklyn who moves to Los Angeles to write for the movies. With understated deadpan humor and dynamic slyly original language and off-kilter imagery Joshua Baldwin has created a novella that will remind readers of an improbable roundtable meeting of Tao Lin, James Thurber, S.J. Perelman and Jack Benny. The elements of the novella's constitution – clipped pieces of fast-paced immediate narrative interspersed with epistolary matter and off-the-cuff riffs on junk food, screenwriting, Walt Whitman, big brothers, bum grandfathers and crackpot friends -- magically hang together and offer a delightfully absurd portrait of the artist as a young man in the City of Angels.
"Baldwin's characters search for fame in the shape-shifting landscape of Hollywood. He has a voice that follows the mirage even after it disappears. The Wilshire Sun is a surreal, giddily original debut that plumbs the myth of Los Angeles." — James Frey
Joshua Baldwin was born in New York City in 1984. He graduated from the college at the University of Chicago in 2006. He is the author of the chapbook Poems and Fake Book Reviews. His poetry and reviews have appeared in The Brooklyn Rail, Chicago Review and Publishers Weekly.
Wild Punch
by Creston Lea
978-1-933527-40-6, $15.95
Wild Punch is an intense, nimble, and flat-out tough debut collection that portrays loss and honesty in subtle daily revelations.
"Attentive, sure-footed, possessed of an engaging voice and best of all, a spirit of generosity, Creston Lea's Wild Punch is an exciting new find for any serious reader of short stories."
— Rick Bass
"Creston Lea can write one hell of a story. Wild Punch is a book of wonderful awful scary marvelous stories -- I kept expecting to hit the wall, to be overwhelmed with depression at the intractable fates he chronicles, but somehow, magically, he kept me reading through and out the other side of grim right into stubborn awe. I'm giving copies of Wild Punch to everyone I know."
— Dorothy Allison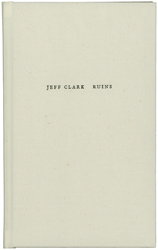 Ruins
by Jeff Clark
978-1-933527-37-6, $20.00
Written, illustrated, and designed by the author, Ruins is an endeavor to address and say goodbye to sources of pain, as well as to a poetic mode (and way of living) rejected for its lack of reality. It is also a book about fatherhood. At its center is Clark's translation of a long poem by Louis Aragon.
The book, signed by poet Jeff Clark is available in a very limited quantity for $20.00. A check may be sent in that amount to Turtle Point Press.
"Ungainly, direct, and absolutely without preciosity or smarm. And heartbreaking. What's recall'd is the kind of fuckall anti-literary messiness of Jack Spicer, the plunge of a relentless going for, "sewed" for "sowed," no matter . . . What I like here is a refusal of the current mode of quasi-surreal, quasi-"analytic" (meaning the unanchor'd abstract) hybridity. Clark's plain (and fierce) willingness to brave the sentimental weathers is admirable and necessary in such a climate."
— John Latta, Isola di Rifiuti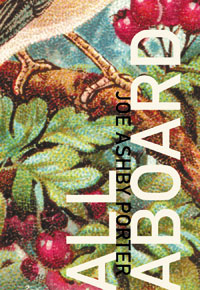 All Aboard
by Joe Ashby Porter
978-1-933527-17-8, $15.95
With All Aboard acclaimed fiction writer Joe Ashby Porter ventures into new, sometimes unprecedented territory, from the luxe restraint of Merrymount through the stops-out eroticism of Pending, and the distilled heebie-jeebies of Dream On. Here reading, travel, and sexual orientation (and disorientation) loom larger than before in Porter, and the dialogue gives new play for what Harry Mathews has called Porter's golden ear. The whole collection unfolds as does each component, laying track just ahead of the speeding train of thought.
"He takes types typically represented as American disasters and rehabilitates them through their own ability to articulate themselves. What's more, Porter in this process sustains an effort to reclaim for all a considerable portion of our very own language that has steadily been bobbing out with the tide. Understanding perhaps the possibility that the narrower our lexicon, the more likely we are to be victimized by our own minds."
— James Tierney
Now Voyagers
Some Divisions of the Saga of Mawrdew Czgowchwz, Oltrano, Authenticated by Persons Represented Therein, Book One: The Night Sea Journey
by James McCourt
978-1-933527-08-6 $17.95
Here is the long awaited sequel to James McCourt's first novel, the comic masterpiece,
Mawrdew Czgowchwz
. In gloriously flamboyant prose, James McCourt in
Now Voyagers
tells the story of the charged atmosphere surrounding a legendary diva (and possible CIA agent) turned psychoanalyst. This rich and brave novel about the opera world and New York in the mid 1950's is touching, inventive, and outlandishly funny. Susan Sontag called James McCourt, "a literary countertenor in the exacting tradition of Firbank and Nabokov."
"Tragic wisdom, we discover, can also be
le gai savoir
, and James McCourt has made a real specialty of transforming intricate wisdom into no more than discerning frivolity, no less than divine frenzy; as he puts it: a running neon paradigm of the quintessence of divadienst! For the purposes (if that is not too grandiose a word) of such fiction, fun is fun, but folly a kind of fate."—Richard Howard
Earthquake
by Susan Barnes
978-1-933527-11-6 $10.00
Earthquake
, with its visually acute, roguish, and intimate reflections of a girl's childhood spent in Alaska and outside of Boston, is a novella in three parts. It is a tiny, humane and quietly humorous tale of a thoroughly unconventional girlhood. Barnes writes in an unaffected style. She is a master of candor and subtlety. Susan Barnes is a painter who lives and works near Portland, Maine. Her artwork is in the permanent collections of several museums in the United States. One of her paintings was selected by Robert Creeley for the cover of one of his poetry chapbooks.
Non-Fiction
Considerations on the Death of a Dog
by Jean Grenier
ISBN: 978-1-933527-83-3 (trade paperback)
ISBN: 978-1-933527-84-0 (e-book)
Price $14.00
"The great problems are always framed in relation to human life, always separated — at least from us — from animal life. Yet, animals are often treated with the same remedies given to humans. And they have the same feelings. Taïaut was jealous of the affection we showered upon him. Whenever a visitor entered, he would sit beside us to attract attention, be petted, or simply hear himself discussed. He grew resentful when scolded and would refuse to lick your hand; he would sulk and never take the first steps to "patch things up." And who would dare maintain that a dog's gaze didn't express sentiments that we experience as well. As well? No. Less well, for in all our sentiments there is a complexity that prevents us from knowing, as they do, the absolute of pleasure and pain."
The Short Fall
by Marek Waldorf
978-1-933527-79-6
978-1-933527-80-2 (e-book)
$16.95
"The Short Fall is a rhetorical triumph, a novel about the presidency built architecturally on language and skyscraper sentences, an impressive, high flying debut." — Jonathan Baumbach
Raymond Chandler once wrote in a letter, "It doesn't matter a damn what a novel is about. The only fiction of any moment in any age is that which does magic with words." Marek Waldorf does magic with words in The Short Fall, a multilevel debut novel about a paralyzed speechwriter's relationship to his client, a charismatic presidential candidate named Vince Talbot and about his own relationship to the written word. The novel, filled with lively effusions of wit and unexpected humor, is at once a non-ideological fly-on-the-wall expose of how campaigns are run and a meditation on creative writing and embellishment. It's an achronological story of recovery, one that emerges slowly like an image on a Polaroid photograph.
Creaturely and Other Essays
by Devin Johnston
978-1-933527-22-2, $14.95
In compact and vivid prose, Devin Johnston's Creaturely makes forays across the border between humans and animals, seeking out intersections between culture and nature. These eight essays describe encounters with creatures common to our city parks and empty lots: dogs, crows, starlings, squirrels, mice, and owls. In each case, Johnston explores the sensory experience of his subject; with each patient observation, he edges closer to an alien consciousness.
"Creaturely, like its subject, eludes definition. It's a book of exquisite essays – or are they prose poems – that tesselate into something larger: a meditation, perhaps, or a vision. Johnston's subject is at once the absolute otherness of the creatures with whom we share the world's everyday spaces – dogs, owls, mice, squirrels, crows – and the worth of our attempts to come to know them. As he puts it, these are creatures that "alight in the vicinity of meaning and move on." Modest, calm, and beautiful in its movements of thought as much as in its turn of phrase, this is an exceptional book and one I felt lucky to have read."
— Robert Macfarlane
Devin Johnston, born in 1970, teaches at St Louis University. He is the author of a previous book of essays and three books of poetry including Sources published by Turtle Point Press in 2007. He co-directs Flood Editions.
Marbles
by James Guida
978-1-933527-24-6, $14.95
Marbles is a collection of lucid, whimsical, and sometimes biting musings on twenty first century urban life. James Guida revives an old form, the aphorism, in ways that are sardonic, topical, and continually thought-provoking.
"It takes a rare gift to write in the aphoristic form, which must be witty and modest at once, and must state in a fresh, arresting way observations which the reader will recognize at once as true. It goes without saying that the aphorist must work out of an unusual perceptiveness and self-knowledge, and I am grateful to James Guida for this book, which I have read from start to finish and shall read again."
— Richard Wilbur
James Guida is an Australian living in New York. He studied literature and philosophy at University of Melbourne and Irish Literature at University College, Dublin. His work has appeared or is scheduled to appear in Yale Review, Kenyon Review on Line, Agni, Orion, Southwest Review, and Raritan.
Dresden
by Lord Berners
978-1-933527-15-4, $9.95
A newly uncovered memoir of time spent with a German family in and around Dresden at the turn of last century and during Berners's colorful formative years. Dresden was edited with an introduction by Professor Peter Dickinson.
Poetry
Progressive Education
by Richard Howard
ISBN: 978-1-933527-82-6
Price: $16.00
LCCN: 2013935146
Richard Howard has written some fifteen books of poetry — "some" implying that those fifteen have been knotted and relaxed into several further collectanea, but the poet pledges, with Progressive Education, that this work is quite fresh and free-handed, an avouchment the more readily made since the new book's contents involve the disciplines and exemptions, as well as the vocabulary and, of course, the dramatis personae, of his own schooling. For nigh on two decades the poet has been teaching at Columbia University's School of the Arts, additamentary to which interval, he has also received the Pulitzer Prize for Poetry, the National Book Award for Translation, and the National Book Critic Circle's Lifetime Achievement Award, as well as having been made Chevalier de l'Ordre National du Gouvernement Français for his many translations. Richard Howard was born in Cleveland in 1929 and since 1947 has flourished in New York City.
Peyton Place: A Haiku Soap Opera
by David Trinidad
978-1-933527-81-8, $16.95
This is the continuing story of Peyton Place. One irreverent haiku for each of the over five hundred prime time 1960's era "adult" soap opera episodes. Fraught relationships, courtroom cliffhangers, and sensational storylines are condensed into 17-syllable episodes, as stereotypic characters weather the passing TV seasons. This haiku soap epic is ingenious, funny and totally addictive.
"In David Trinidad's Peyton Place: A Haiku Soap Opera, the moment-by-moment particulars of traditional haiku collide with the time-stretching serial narratives of contemporary soap operas. As Trinidad's haiku chart the changing seasons, don't be surprised if the snow falling under moonlight is artificial, dumped by overworked stagehands off-camera. Seventeen syllables mediated by television - the continuing story of Peyton Place making a high-def splash in Bashö's pond." — Tony Trigilio
"The world of art can appear anywhere, so it's no wonder to me that Trinidad finds something worthwhile in producing a haiku for each of the episodes of Peyton Place and that, embedded in the strange curl of Dorothy Malone's hairdo, is yet one more space still untouched and undefined by a poet." — Manuel Muñoz
Blue Stranger With Mosaic Background
by Wayne Koestenbaum
978-1-933527-60-4, $10.50
"Wayne Koestenbaum's brilliant new collection is like a lurid coloring book of Fauvist Depravity. Playfully perverse, his poems reinvent the lyrical, satirical barb for our moment. And they're as telling as they are outrageous. Where else could we meet the 'Mrs Robinson of Abstract Expressionism' or experience the joy of biting "the wolfman's wombat ass." This scholar of excess is off the cuff, over the top, and always on the money!" — Elaine Equi
"Like a desiccated David Markson novel, this addictively written book of minimalist pop koans welds the body to the page. Strained through dreamspace, refracted by mediaspace and enacted in meatspace, these poems refute stability and certainty, opting instead for the irrefutable vagaries of Koestenbaum's exquisitely tuned subjectivity. " — Kenneth Goldsmith
"Hilarious, gorgeous, intellectually playful, fairy-light...all in ways I've NEVER encountered before! Utterly thrilling!" — Guy Maddin
The Drug of Choice
by Christopher Cahill
978-1-933527-64-1, $15.00
"Cahill has reinvented the Roman erotic elegy for modern New York: lust, rage and longing are given play in verse that ranges from the raw to the exquisitely formal." — Edward Conlon
"Christopher Cahill uses poetry and prose, truth and fiction, frank obscenity and polished formal verse to reflect back to us the only contemporary love that dare not speak its name -- male heterosexual adulterous desire....The Drug of Choice is powered by a love of truth and a love of women. It is shocking and it is a masterpiece." — Caitlin Flanagan, Staff Writer, The New Yorker
"These poems will keep you on your toes with their exciting mix of lust and formality, the happy shuffling together of curb-talk and cultured discourse. The selections in The Drug of Choice are a guaranteed buzz, and some are strong enough to get you off for days." — Billy Collins, Former Poet Laureate
Dear Prudence — New and Selected Poems
by David Trinidad
978-1-933527-47-5, $19.00
"This magnum opus confirms David Trinidad's place in the poetic firmament: he is simply the best we have. A worthy successor to James Schuyler, Trinidad writes soulfully and sometimes photorealistically about the melancholy threshold where dolls and stars become inner objects -- dirty, glamorous, destructible. Jacqueline Susann meets Sei Shonagon? Trinidad manages to combine neo-formalist abstraction with dripping, gorgeous figuration: Bonnard's wet dream." — Wayne Koestenbaum
"This is a volume celebratory in tone, panoramic in scope, funny and genuinely moving. Trinidad is at the center of what's relevant in his art. And this collection is more vital and more enjoyable than any single performance he has given thus far." — D.A. Powell
"...Trinidad attends to the present to see into the past with such needle fine precision it's like encountering a perfectly appointed movie set where personal memory crosses intimately with cultural memory. Poetic form in Trinidad's hands is a metaphor for staking a claim on the material world even as it slips away in a shimmery Hollywood dissolve – a desperate, doomed reclamation of all that can never be held long enough." — Robyn Schiff
What It Is Like — New and Selected Poems
by Charles North
978-1-933527-48-2, $20.00
What It Is Like, Charles North's tenth book of poems, contains new work as well as a generous selection from his previous books. North's poetry has received high praise from a wide variety of aesthetic camps. Among his awards are a Foundation for Contemporary Arts grant, two grants from the National Endowment for the Arts, four Fund for Poetry Awards and a Poets Foundation Award.
"North is a younger compatriot of O'Hara and Ashbery, and his nonchalance aspiring to greatness finds the same 'risks inside art' that the other New York School poets found in the city. Juggling a satiric self-consciousness with a 'strange mischief,' North pulls death-defying propositions and playful mockeries from thin air." — Publishers Weekly
"The business of examining exactly what one means is central to North's concept of the role of the poet, and he is especially alert to the way particulars and ideas interact in our constructions of meaning. The urge to hold out 'particulars' to the reader is mediated through an alert, sophisticated consciousness insistently aware of convention and genre." — Mark Ford
"The challenge of writing about the sensual qualities of New York City which seems so tired, by North's pen becomes transcendent again. And that's only one of the things his poetry accomplishes. He is witty when wit seems all but lost, gorgeous when gorgeousness is supposed to have crawled off to wherever Frank O'Hara's odes come from." — Ange Mlinko
In This House
by Howard Altmann
978-1-933527-33-8, $15.95
"Howard Altmann interrogates the sky, the light, the world, about their intentions. If he seldom finds reassuring answers, he finds something better: "When all that consoled consoles no longer/ loneliness finds a room inside the one it knows." These poems are as essential as a glass of water."
— John Ashbery
"Though not exactly a nature poet, Howard Altmann is a poet of his own mysterious natural kingdom, a house in which he has built a house, whose walls are open to the inspiration of air. ("Frightened of the next life/ being exactly like this life/ he asked to be a bird" or "Let it not be words/ you reach for you say -- / where the trees stand/ far from man.") To have discovered this kingdom and inhabited it (like Keats' Imagination, as monk to monastery) -- to have found words for what is nearly unsayable -- is a measure of this poet's uncanny transformational gift. Enter the house of these poems and stay on, a grateful tenant in this remarkable state of wonder."
— Carol Muske-Dukes
By Myself: An Autobiography
by D.A. Powell and David Trinidad
978-1-933527-29-1, $9.00
If there were an award for Chapbook of the Year it would surely be given to By Myself: An Autobiography. In the spirit of Goethe's comment, "One is never satisfied with the portrait of a person one knows," two celebrated poets, D.A. Powell and David Trinidad, have collaborated to create a perfect portrait of an unknown star in 300 lines by taking one sentence from each of 300 celebrity autobiographies. The result is poignant, poetic and hilarious — a perfect and imperishable performance.
Without Saying
by Richard Howard
978-1-933527-14-7, $16.95
We always say what Goes Without Saying, or we try to: anything is preferable to a certain silence.
In Richard Howard's new collection, voices of myth and memory prevail, if only by means of prevarication — the voice of Medea's mother trying to explain her daughter's odd behavior to an indiscreet interviewer; or first and last the voice of Henry James, late in life, faced with the disputed prospect of meeting L. Frank Baum and then, even later on, "managing" not only Maetrlinck's Bluebeard but his own unruly cast of characters, including Mrs. Wharton and young Hugh Walpole…
Richard Howard, one of America's finest poets, continues to write poems of dazzling virtuosity, work which is intricate, amusing, and brimming with youthful spirit. He is the long established master of personnae and he is able to shift from voice to voice and era to era with grace, wit and dexterity. James Dickey once wrote that "Howard's learning is so lightly and clearly held, his wit so delicate and hair-fine, and his poetic skill so unobtrusive, that the reader enters the poems with none of the pain that poets usually exact, but with delight, gentleness and joy."
Sources
by Devin Johnston
978-1-933527-16-1 $15.95
"Sparkling with energy and intelligence, these poems are likes chips in a mosaic, spare, hard, precise, and with a classic humanity and grace."
— David Malouf
Sources, Devin Johnston's third book of poetry, returns ad fontes: to sources in Greek and Latin, secret derivations, wellsprings of feeling, and forces of nature. Sonically alert, these poems attend to the world with restless curiosity: "Pacing rugs/ or battered roads / we wait for what / we know we know." Charged with expectation, they often take place on thresholds and sills, coming and going between house and street, private involutions and common life, past and present, human and animals, friends and strangers.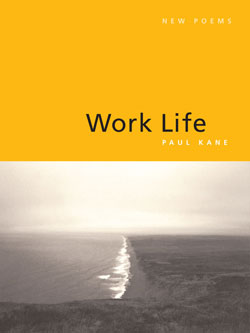 Work Life
by Paul Kane
978-1-933527-07-9 $16.95
"Work Life, Paul Kane's wonderfully varied and assured third volume, is simultaneously literal and lyrical, imbued with the magic of the matter-of-fact....I can think of no other poet whose work is as polished, pleasurable, and affecting as Paul Kane's."—John Koethe
"A remarkable medley of wit and sobriety....The poems in Work Life bespeak a wholeness of life and language, a fitting of elegy, diatribe, natural description, meditation and blessing into the same large work of mind and heart."—Rosanna Warren